Happy 2019

A happy new year to all of you out there. Many thanks for the support, the listens, the shares and for coming out to catch a gig in 2018.
It means the world to me that you all care about this new record full of songs. We're gonna be spending lots of time writing, recording and playing in 2019 and hopefully we'll catch you somewhere along the way.
All my best to each and every one of you.
L

SUMMER SHOWS

It's been a great run of shows this summer!

As we head in to taking a little break before we hit the stage again in the fall, we just wanted to take the time to thank everyone for coming out to see us on the road so far this year. It's a real pleasure playing for you folks and we couldn't do it without you. Thanks to

Nelson Mouellic

for the great pic of our set up at

Arts On The Fly Festival

in Horsefly, BC. Always a highlight of our summer. Stay tuned for some upcoming dates and enjoy the rest of the summer! Best wishes to you all. L
NOW I SAY GOODNIGHT LIVE VIDEO OUT NOW!

Check out the new Live video for Now I Say Goodnight!
The band crowds around one microphone in Leathan's home in Vancouver to preform the track acoustically.
Leathan Milne - Guitar and Vocals
Craig Aalders - Acoustic Guitar
Owen Connell - Pump Organ
Alex Hauka - Vocals
Devon Kroeger - Vocals
Adrian St. Louis - Video




there is the ground beneath us available now!
I am so thrilled to announce the release of my new album There Is The Ground Beneath Us!

It's been a few years in the making and I just can't thank everyone enough for all of their support, love, musicianship, gear, advice, food, laughs etc...

It's always a daunting moment to share your creations with the world and this one wouldn't be the same without a lot of great people. You know who you are, and if you're not sure, just assume you are anyways.

Ingest it wherever you consume your music or just click

here

to buy it directly from my fingertips.

Thanks to all you beautiful people!
VANCOUVER RELEASE SHOW ANNOUNCED FOR 03/24/18!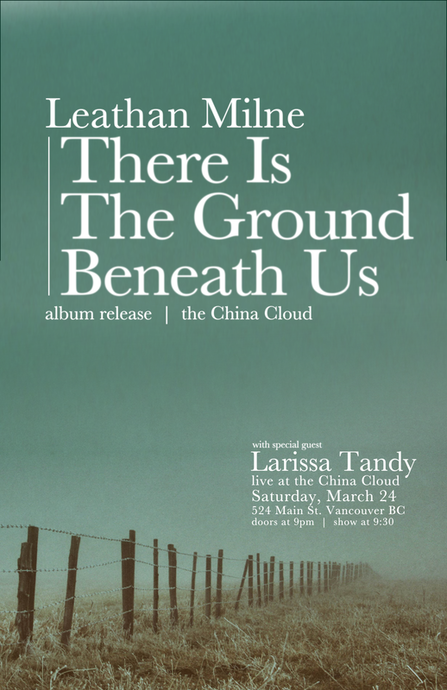 New album to be released 03/23/18!

Leathan Milne is proud to present his newest album entitled 'There Is The Ground Beneath Us'.
The album features 10 brand new tracks of original material and was recorded over the last two years.
It is his first release since 'The Outcome Of Weather' (2012) and will be available worldwide on March 23rd 2018.
Stay tuned for first listens, videos, upcoming dates and more!
Pre-orders will be available soon!